Carpet in Rochester, MN
With its cozy comfort, carpet is a welcome addition to your favorite living spaces!
Replacing your old, worn carpet is a fast, affordable, and efficient way to upgrade any room. Adding color and cushioning, carpet remains one of today's most popular flooring choices, and it's clear to see why—modern carpet truly offers something for everyone.
At Hiller's Flooring America, we carry a large selection of carpet at an affordable price that can't be beaten. Our flooring experts will help you find new carpet that helps fit your interior and offers many advantages, including nearly limitless design options, reduced room noise, and a comfortable cushion underfoot. Visit our carpet showroom in Rochester, MN, today!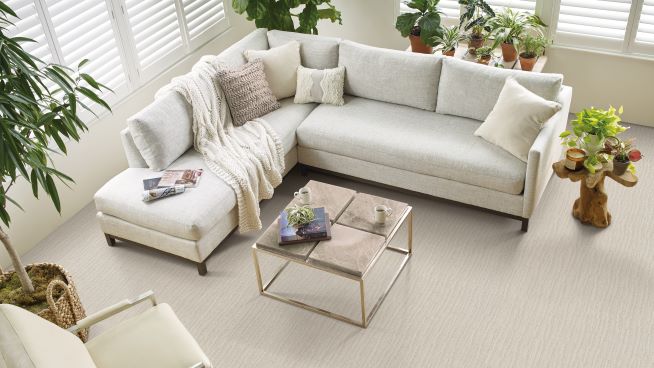 What Are The Different Types of Carpet?
A resilient and long-lasting carpet is engineered to withstand heavy foot traffic and repel stains from inadvertent spills. Modern stain-resistant and wear-resistant carpets offer a perfect blend of style and durability, making them a wise and enduring investment. Our inventory boasts a diverse range of carpet types, each tailored to suit various interior settings.
The style of your carpet is influenced not only by the pile but also by the type of fiber used. Fibers play a crucial role in determining the appearance and functionality of a carpet within your home. As you explore our selection, you'll encounter five primary types of fibers, each contributing distinct characteristics to cater to your preferences:
Berber is soft and cushiony underfoot and comes in a variety of pile heights. This type of carpet can also be constructed as a multi-level loop or level-loop carpet.
Frieze carpets are known for being soft, plush, and silky smooth to the touch.
Loop carpets are made out of uncut looped fibers that offer a level surface that is usually woven or tufted.
Cut-loop carpets are snag-free, offering a plush feel that's ideal for homes with pets.
Patterned carpets are made using screen printing and make a bold statement in any room.
Saxony is a luxurious cut-pile carpet known for being resistant to shading, wear, and traffic marks.
The Benefits of Carpet for Your Minnesota Property
Carpet presents a multitude of distinctive advantages inherent to soft-surface flooring. Beyond its aesthetic appeal, carpet excels in performance and durability, promising years of enduring quality. Whether you desire a sophisticated ambiance with a textured carpet or a relaxed atmosphere with a frieze carpet, the numerous compelling benefits contribute to maintaining carpet's status as one of the most favored flooring options in today's market. These advantages include:
Carpet absorbs sound, making it a less noisy flooring surface to walk on.
Carpet is a soft, non-slip surface that is safe for kids and pets to play on.
It is one of the most affordable flooring types on the market.
Most carpets are treated to resist stains and any kind of soil, making them easy to clean and maintain.
Carpet can add style to any space and give a room an entirely different feel.
Carpet adds warmth and insulation to any space.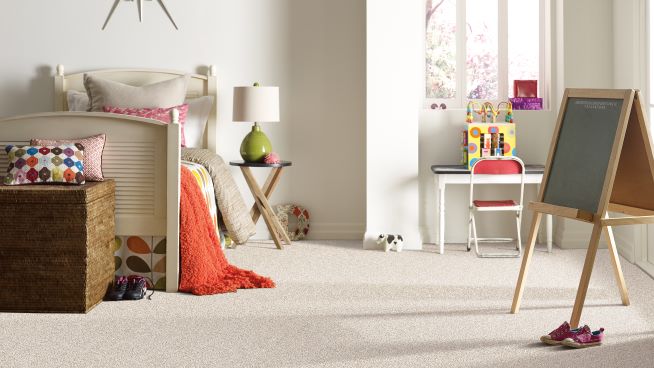 Is Carpet Waterproof?
While carpet is not completely waterproof, we carry water-resistant carpet that is perfect for active households with kids or pets. Water-resistant carpet looks like any other carpet, except its protective backing prevents moisture from reaching the subfloor. Stains will stay on the surface of the carpet, making them simple to wash away and less likely to leave a mark.
These carpet fibers are also resistant to visible wear and tear, offering you peace of mind to keep liquids from seeping into the fiber. This composition allows minimal cleaning, which is why Rochester customers love our carpets. Keeping your new carpet looking as good as its day-one appearance is as easy as cleaning up any spills with a damp cloth and vacuuming them regularly.
Carpet Installation Services with Rochester Contractors
Ensuring the optimal installation of your new carpet is crucial for maintaining its appearance and performance over time. With our team of seasoned Rochester carpet installers boasting years of expertise, skills, and the necessary knowledge, we guarantee a flawless job from the outset. Opting for professional carpet installation is the most effective way to safeguard your new carpets against potential damage, ensuring their longevity.

Our commitment to quality extends to the best warranties and guarantees in the industry, exemplified by our Adore Your Floor Guarantee. If you find yourself dissatisfied with your recent carpet installation, simply reach out to us within 30 days of the installation date. We're more than happy to replace your carpet with a similar product at no extra charge.

Contact us to learn more about our carpet selection and installation services. We proudly serve customers in Rochester, Byron, Kasson, Eyota, and Dover, MN, as well as the surrounding communities.