Add Elegance to Your Home with Hardwood Flooring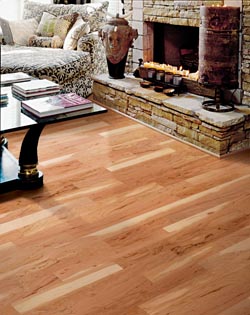 Find a selection of stunning hardwood flooring in Rochester, MN at Hiller's Flooring America. Our reputable flooring store carries a wide selection of hardwood floor products, and our specialists will guide you every step of the way, from selecting your new floors to installing them.
Our flooring showroom features an outstanding inventory of exquisite wood flooring from reputable manufacturers. You can feel confident knowing that our hardwood floors are manufactured with high-quality materials and integrity. We offer a number of options, such as
With so many choices, Hiller's Flooring America will help you find the best hardwood flooring option that suits your needs in looks, performance, and price. Ready to upgrade your home with new hardwood flooring? Contact our friendly team at Hiller's Flooring America to learn more!
Characteristics of Hardwood Flooring
As you make your flooring selections, one of our experts can help you choose the best options that meet your specific flooring demands. We carry many reputable flooring brands, such as Paramount, Shaw, Somerset, Mannington, Spotlight Values, and Floorcraft. From solid wood flooring to walnut hardwood floors, we install it all.
Whether you want a hardwood floor for a formal room, family room, or bedroom, let us help you make it a reality. We carry hardwood floors in a variety of different characteristics, such as:
Types of Hardwood Flooring
Hiller's Flooring America understands each customer has different needs when it comes to hardwood flooring. We offer both engineered and solid wood flooring to best match our customers' lifestyles and desires. Learn the difference between engineered and solid wood:
Engineered Wood Flooring

- Engineered hardwood is manufactured with multiple layers of wood with a veneer of the wood species of your choosing as the topmost layer. Underneath are layers of wood, plywood, or high-density fiberboard that are bonded securely together. This construction makes engineered wood flooring resistant to moisture. Perfect for Minnesota's humid summers and dry winters, our Rochester customers enjoy the stability of engineered wood flooring. These floors do not expand and contract due to changes in moisture levels. This means that you have more options for their use. For example, you can use engineered wood in rooms such as kitchens, bathrooms, and basements.

Solid Wood Flooring

- Solid wood floors increase the overall value of your home because they are considered a highly desired flooring option. This type of flooring is milled from a plank of real wood, usually three-quarters of an inch thick. Our solid wood flooring is as stunning as it is strong and durable. These gorgeous floors are easy to maintain and are durable enough to last for decades, especially when refinished. Wood floors complement any style of décor. The look of real wood is distinctive with its unique grain, whorls, and patterns, making it welcome in any home or business. Request samples of solid wood flooring to take home with you so you can see how its beauty works with your own furnishings.
Finishing Your Hardwood Floors Onsite
Choose the customization of unfinished hardwood when you want more options for your flooring. This is the opposite of pre-finished flooring, which requires you to choose the finish of your flooring when you select your wood. We bring your unfinished hardwood flooring to you, and our trained technicians install, sand, and finish your floors right in your home.
Having professionals finish the flooring onsite allows you to choose from a larger selection of finishes than the factory offers. You will also receive a floor that is beautifully and evenly flush, with uniform sealing and finishing.
Hardwood Flooring Installation by Professionals
Upgrading to long-lasting hardwood flooring is one of the most cost-effective ways to add significant lifetime value to your home. However, no matter how high the quality of your flooring is, improper installation can decrease its longevity and value. Installation is no job for amateurs. Most of the problems that occur over the lifetime of a floor result from mistakes in installation.
Our expert flooring installation gives you confidence in your new floor. Further, our Ultimate Confidence Guarantee specifies that if you are not satisfied with your hardwood floors for up to 30 days after installation, we will replace them at our expense. Our installers consistently receive the best installation ratings, so count on us to get your new hardwood floors conveniently and expertly installed in your home.
Flooring Maintenance Tips & Expert Care Guidelines
In addition to proposing options for beautiful hardwood floors, our professionals provide helpful maintenance tips. You can prolong the life of your floor by following a few simple guidelines:
Sweep and dry mop regularly

Put down rugs on high-impact spots and areas susceptible to a lot of sunlight to prevent fading.

Maintain moisture levels by installing a humidifier in the winter and a dehumidifier in the summer. This helps prevent shrinkage and expansion due to changes in weather.

Damp mop if it is recommended for your particular floor; remember that using water or harsh cleaners can be detrimental. Always ask a flooring specialist before using any hardwood floor cleaners.
Are you ready to install beautiful new hardwood floors in your home? Visit our showroom today and meet with a flooring expert to go over your options!
Contact us for an in-home consultation for hardwood flooring in Rochester MN. We also proudly serve the communities of Byron, Kasson, Eyota, Dover, and Stewartville, Minnesota, and the surrounding areas.