The Best Vinyl Flooring Selection in Rochester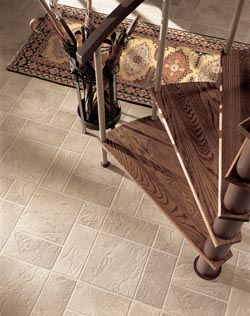 The vinyl category of flooring includes options for a vinyl plank floor (LVP) and for luxury vinyl tile flooring (LVT). These options make a vinyl flooring installation the flexible option for any space. Vinyl in any of these forms shares the same advantages: ease of maintenance, durability, style, and affordability.
Vinyl flooring is composed of four layers for maximum durability and style. The durable core is covered by a scratch-resistant film layer and protected by a water-resistant backing, but it is the photograph layer that makes luxury vinyl the flexible option. This photograph or image layer can be printed to simulate any natural material, including ceramic, porcelain, natural stone, or any variety of hardwood. This vinyl can then be shaped into planks, tiles, or rolled out as sheets, allowing you to purchase durable luxury at an affordable price.

Professional Vinyl Flooring Installation
Every type of vinyl is easy to install, and can often be laid down more quickly than other floors. For the most efficient installation, especially for multiple adjacent rooms, our sheet vinyl flooring rolls can be pre-cut to your room's needs and installed in one piece. LVT provides all the convenience of ceramic or porcelain tiles with the flexibility of vinyl: allowing it to be cut in-place—often with a simple utility knife!—to conform to the features of the room.
Be confident that your investment in flooring from us is protected by our Ultimate Confidence Guarantee, which includes a Price Protection Guarantee and a Lifetime Installation Guarantee. In addition, using our Five Star Selection System, you can choose the length of warranty that is appropriate to your needs. This can range from five to 25 years of wear, fade, and stain warranty protection, and includes our Confidence Plus™ Warranty: if you're not satisfied with your new Five Star-rated vinyl flooring installation within 60 days, we will replace it for free.

A Vinyl Plank Floor Resembles Hardwood
A vinyl plank floor provides all the elegance of natural materials at an affordable cost per square foot that will fit any budget. This flooring mimics hardwood and comes in a range of stains, plank thicknesses, and wood grains. Vinyl plank is a great alternative to hardwood flooring, which requires more maintenance and tends to be more expensive.

Luxury Vinyl Tile Flooring from Quality Suppliers
Luxury vinyl tile flooring is one of the best choices wherever you need equal parts durability and elegance. Busy households do well with this stunning, affordable flooring for high-traffic areas because it is highly stain and scratch resistant. Great style doesn't have to come with increased maintenance, and daily sweeping and regular mopping will keep your LVT looking new for years.
In addition, any individual tile that may become damaged can be easily removed and replaced without threatening the overall integrity of these floors. Our flooring experts can help you find the perfect vinyl flooring option for any application, from any of the following top-notch manufacturers:
• Downs™
• Naturcor™
• Home Craft™
• Hearth & Home™
• Armstrong™
• Stainmaster™
• Mannington™


Contact us at <PHONE> or come in today for the luxury vinyl flooring in Rochester MN for your home style needs! We proudly serve the communities of Rochester, Byron, Kasson, Eyota, Dover, Stewartville, Spring Valley, Dodge Center, Plainview, Pine Island, Zumbrota, Lake Rochester, Wabasha and Winona, Minnesota.