Durable and Attractive Wood Look Tile in Rochester, MN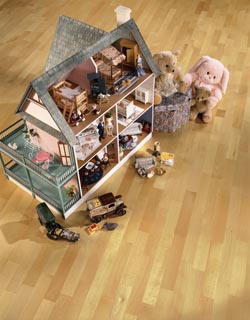 For centuries, natural hardwood has been one of the most beloved and valuable materials available for floor covering. Throughout all those years, however, there have always been limits on its use. Too much moisture, and it undergoes damaging expansion and contraction. Too much traffic or not enough maintenance, and even the strongest wood succumbs to wear. Today at Hiller's Flooring America, we're proud to offer an alternative that works for almost any situation.
Our wood look tile in Rochester, MN, is a revolution in homeowner comfort and a revelation in residential style. It offers the same naturalistic appeal that its genuine counterpart does, but with the advantages of manufactured tile, too. What are those advantages? Just to name a few, our tile products can:
Provide Heating & Cooling Benefits
Endure Heavy Use
Resist Moisture
Capture Diverse Designs
Beauty Beyond the Surface
Investing in new floors is about more than what you walk on. You need a material that can set the foundation for long-term style, additional décor, and overall home value. Our ceramic and porcelain wood tile do all of that and more by combining classic aesthetic sensibilities with contemporary manufacturing methods.
The result? Two of the strongest options homeowners currently have when they want to furnish their spaces with the look of attractive wood flooring. We offer both in our showroom, giving you the freedom to complete your project your way.
Porcelain - Favored by many for its incredible durability and full, solid color, this covering offers exceptional water resistance and can endure the pressures of busy families, pets, and more. It's ideal for areas where moisture and traffic are major concerns, such as kitchens, bathrooms, and basements.
Ceramic - Our wood plank ceramic tile is an efficient way to accomplish large and complex projects with ease. Since it's simple to cut and design with, you can utilize it almost anywhere, allowing you to ensure a cohesive home style without worrying about specialists or a frustrating installation process.
One Destination, Many Options
No matter what you're in the market for when it comes to flooring, you can find it at our showroom. More than that, you'll enjoy extensive assistance with every part of the shopping process. Want to get detailed information about specific manufacturers? We've got answers for you. See both porcelain and ceramic wood tile samples for yourself? They're both in our showroom. We can even help you check into other wood look flooring, like our luxury vinyl.

Contact us now and discover all the options waiting for you at our flooring showroom. We proudly serve Rochester, Byron, Kasson, Eyota, and Dover, Minnesota, as well as the surrounding areas.